Craniometaphyseal dysplasia: a case report
Craniometaphyseal dysplasia: a case report. Lamazza L, Messina A, D'Ambrosio F, Spink M, De Biase A.

Oral Surgery Oral Medicine Oral Pathology
Abstract
Craniometaphyseal dysplasia (CMD) is a rare genetically transmitted bone dysplasia characterized by alterations in the development of the craniofacial bones with abnormal remodeling of the metaphyses.
Sclerosis of the skull bones can lead to cranial nerve compression that finally may result in hearing loss and facial palsy. CMD occurs in an autosomal dominant (AD) (MIM 123000) and an autosomal recessive (AR) form (MIM 218400).
Sclerosis of cranial bones is usually much more severe in the AR form. We present a 36-year-old male with a previous diagnosis of Paget disease. The examination reveals prognathism, ocular hypertelorism, mixed bilateral hypoacusia, nasal bossing, a class III malocclusion and a narrow palatal vault.
The patient necessitated several dental extractions, surgical procedures were conducted, and a biopsy of the alveolus was performed and the sample underwent histological examination.
The histological report led to an exclusion of the previous diagnosis of Paget disease. The final diagnosis of autosomal dominant CMD was confirmed by the molecular testing of the CMD gene (ANKH).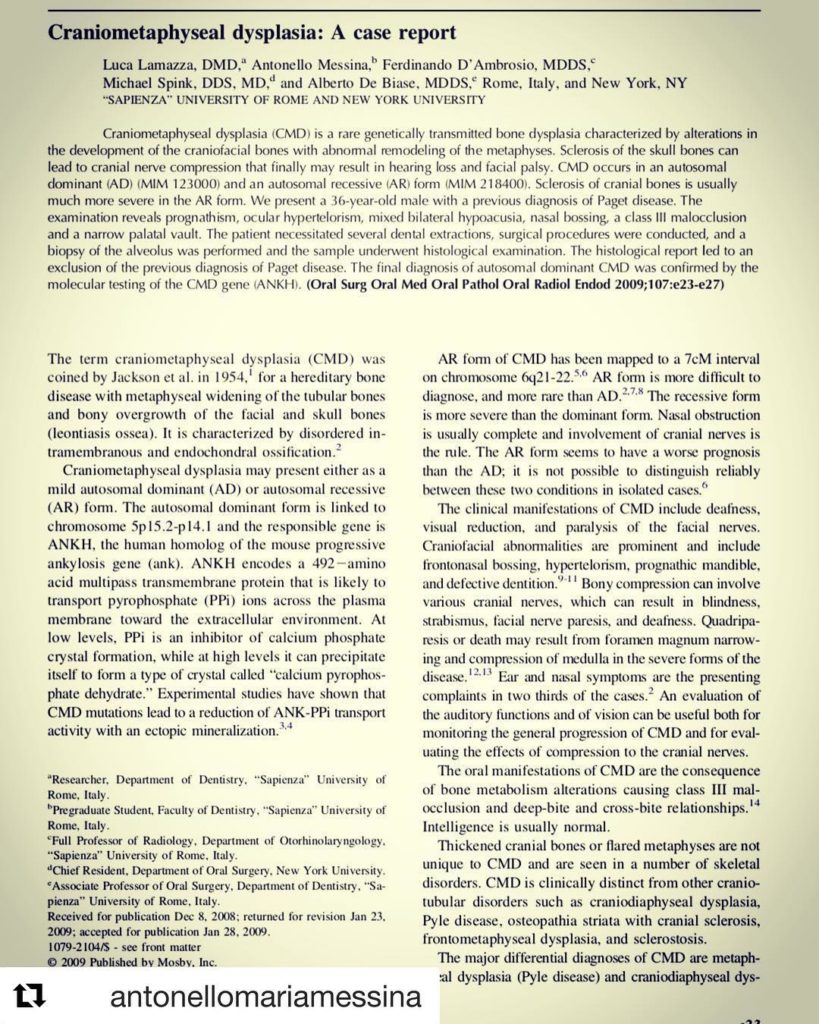 Info sull'autore
Laurea Specialistica in Odontoiatria e Protesi Dentaria conseguita presso l'Università di Roma "La Sapienza" nel 2009, con una tesi sperimentale sulla Laser Therapy. Abilitazione nazionale all'esercizio professionale con Num. 309 nel 2009. Abilitazione Svizzera all'esercizio professionale nel 2016 con Num. GLN 7601003843736. Collabora da anni allo studio delle "abfractions" con il prof. John O.Grippo con cui ha proposto una nuova classificazione delle lesioni dentali non cariose e l'introduzione del termine "Biocorrosion" in campo biomedico. Collabora attivamente con il prof. Oh della Columbia University allo sviluppo e progettazione di scaffold biomimetici per la rigenerazione tissutale. Collabora con il dott. Ettore Marini, è stato relatore in congressi nazionali ed internazionali su temi di implantologia e rigenerazione ossea sia in odontoiatria che in ortopedia. Key opinion leader per Zimmer Biomet Osteobiologics. Socio attivo ESTROT (European Society for Tissue Regeneration & Orthopaedic Trauma). Autore di pubblicazioni su riviste internazionali in materia di patologia oro-maxillo-facciale,implantologia e piezochirurgia.